Bespoke Wedding Dresses in Girona: Elegance and Exclusivity by Mireia Vidal Brides
Wedding dresses are one of the most important pieces in a wedding, as they not only reflect the bride's style and personality but also mark one of the most emotional and unforgettable moments in a person's life. If you are in Girona and looking for a custom wedding dress that meets all your expectations, look no further than Mireia Vidal Brides.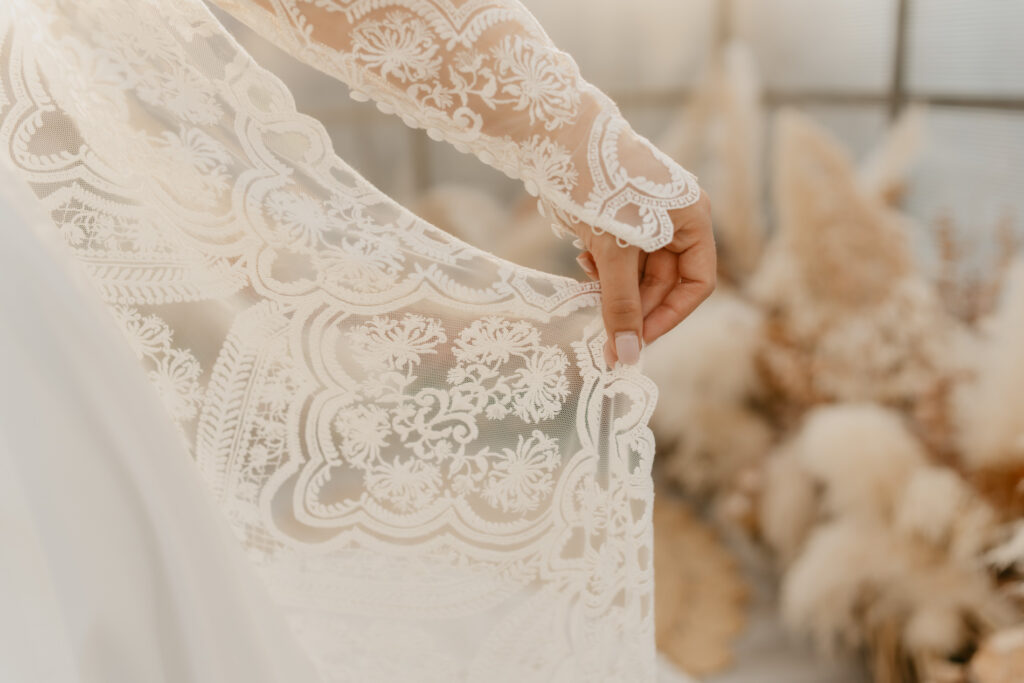 Mireia Vidal Brides: Bridal Haute Couture in Girona
Located in the picturesque city of Girona, Mireia Vidal Brides is an undisputed reference in bridal haute couture in Spain. With years of experience and a team of passionate designers and craftsmen, Mireia Vidal Brides has earned a reputation for excellence in creating custom wedding dresses. Each dress is a work of art, crafted with the utmost attention to detail and the highest quality materials.
Custom Wedding Dresses: The Perfect Choice
One of the great advantages of choosing Mireia Vidal Brides for your wedding dress is the possibility of having a fully personalized dress. Whether you dream of a princess dress with a long train or a more minimalist and modern design, the team of designers at Mireia Vidal Brides will work closely with you to capture your vision and make it a reality.
Each bespoke wedding dress from Mireia Vidal Brides is unique and tailored to your body shape and preferences. Fabrics are carefully selected, and the tailoring is done by hand to ensure the highest quality and comfort on your special day. The result is a dress that will not only make you feel wonderful but also allow you to move with ease and elegance throughout your wedding.
The Mireia Vidal Brides Experience
At Mireia Vidal Brides, they not only provide you with a custom wedding dress but also invite you to live a unique and personal experience. Personalized attention is a fundamental part of their philosophy. From the moment you contact them until your final fitting, you will feel cared for and listened to at every step of the way.
The process of selecting the dress starts with a personal consultation with the designers at Mireia Vidal Brides. Here, you can express your preferences and concerns, and they will guide you through the different design and fabric options available. Once the design is chosen, the tailoring process begins, with multiple fittings to ensure the dress fits perfectly.
Trends in Wedding Dresses in Girona
Girona, with its rich history and charming settings, is an ideal location for a dream wedding. To accompany it, Mireia Vidal Brides is always up to date with the latest trends in wedding dresses.
Whether you are looking for a classic and elegant wedding dress or a more modern and daring option, Mireia Vidal Brides offers a wide range of designs to satisfy all tastes. Dresses with exquisite lace, deep necklines, or bejeweled details, your perfect choice is in Girona.
Frequently Asked Questions
When should I start looking for my wedding dress in Girona? It is recommended to start looking for your custom wedding dress in Girona at least eight months in advance. This will allow enough time to choose the design, have fittings, and ensure the dress fits perfectly for your big day.
What factors should I consider when choosing a custom wedding dress? When choosing a custom wedding dress, it is important to consider your personal style, the wedding location, the season, and your body shape. The team at Mireia Vidal Brides will help you make all these important decisions.
What additional services does Mireia Vidal Brides offer in Girona? In addition to custom wedding dresses, Mireia Vidal Brides offers bridal accessories such as veils, shoes, and jewelry. They also provide modification and fitting services to ensure the dress fits perfectly.
If you are looking for the wedding dress of your dreams in Girona, Mireia Vidal Brides is the answer. With years of experience in bridal haute couture, a commitment to quality, and personalized attention, you can be sure that your dress will be a work of art, and you will feel radiant on your special day. Look no further; elegance and exclusivity await you in Girona. As always, for any questions or inquiries, feel free to write directly to hola@mireiavidal.com, and they will be happy to assist you. See you soon!