Bridal capes: the ultimate complement
Welcome to the wonderful world of wedding dresses in Girona. If you are planning your wedding and are one of the future brides who want to stay up-to-date with the latest trends, you've come to the right place. At Mireia Vidal Brides, the bridal atelier in Girona, we are passionate about bridal fashion and want to share with you the latest trend that is catching everyone's attention: bridal capes. In this article, we will guide you through this element that can completely transform your wedding dress and make you shine on your big day.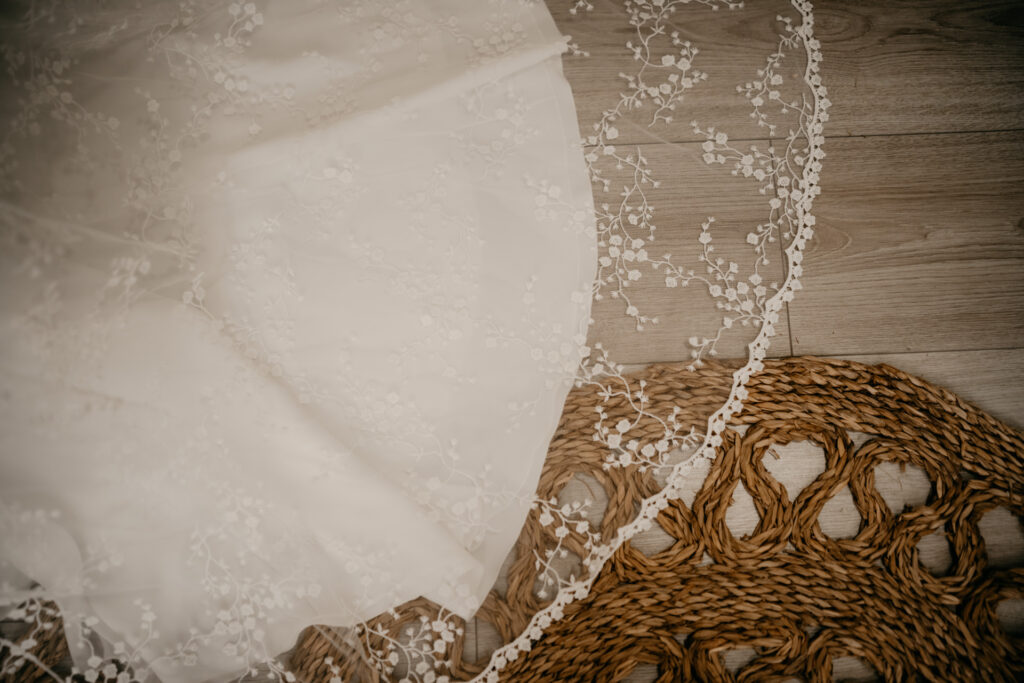 Bridal Capes: The Star Element of the Wedding Dress
Bridal capes have quickly become an essential fashion element in the world of wedding dresses. Their elegance and versatility make them the perfect choice for any bride who wants to add a special touch to her look. Whatever your style, whether it's classic, modern, or romantic, a well-chosen cape can enhance your presence at the altar.
Frequently Asked Questions about Bridal Capes
What Type of Bridal Cape Fits My Style? The choice of the bridal cape largely depends on your personal style and the type of wedding ceremony you have in mind. For formal ceremonies, long bridal capes with elegant details like lace or embroidery could be a captivating option. On the other hand, for more relaxed or outdoor weddings, you can opt for a lighter and shorter cape that adds a touch of romance without being overwhelming.
How Can I Pair a Bridal Cape with My Dress? The combination of a bridal cape with your dress should be harmonious. It's important that the cape complements your dress without overshadowing it. If your dress has delicate details, you can choose a simpler cape to balance it. Conversely, if your dress is more minimalist, a cape with additional details can add a striking touch to your look.
Are Bridal Capes Suitable for Outdoor Ceremonies? Yes, bridal capes are an excellent choice for outdoor ceremonies. In addition to being a style statement, they can also keep you comfortable in case the temperature drops. Lightweight and flowing bridal capes are especially suitable for beach or garden ceremonies, as they add a touch of romance and elegance without being overly formal.
In summary, bridal capes are the magical element that can transform your wedding look into an unforgettable experience. At Mireia Vidal Brides, we are committed to helping you find the perfect bridal cape that complements your dress and reflects your personality. With a wide variety of designs and fabrics available, we are confident that you will find the ideal cape for you.
If you are about to get married and are considering the option of bridal capes, we invite you to visit our atelier in Girona and let us help you find the perfect complement for your big day. With our assistance, you will look spectacular and feel like modern-day princesses as you walk down the aisle. Your fairy tale begins here at Mireia Vidal Brides, where we create dreams that come true.
Be sure to check out our latest trends in bridal capes and wedding dresses in Girona. At Mireia Vidal Brides, we are dedicated to making your wedding day unforgettable, and we will help you find the perfect cape that adds that touch of magic and elegance to your bridal dress. We look forward to seeing you at our atelier in Girona to start designing your dream wedding look together!