How to choose neckline for wedding dress
In this first blog post, we will talk about which necklines suit different types of busts. It is focused on helping new brides decide which neckline to choose for their wedding dress and have a clearer idea of which necklines complement them the most.
It's not the first time that I've assisted brides at my bridal dress atelier in Girona who have no idea what suits them best. Some brides do know what looks good on them, but the majority don't have a clear guideline to rely on.
First and foremost, I want to clarify that every body is beautiful, and this post is aimed at bringing out the best in each body type and helping you find the neckline for your wedding dress.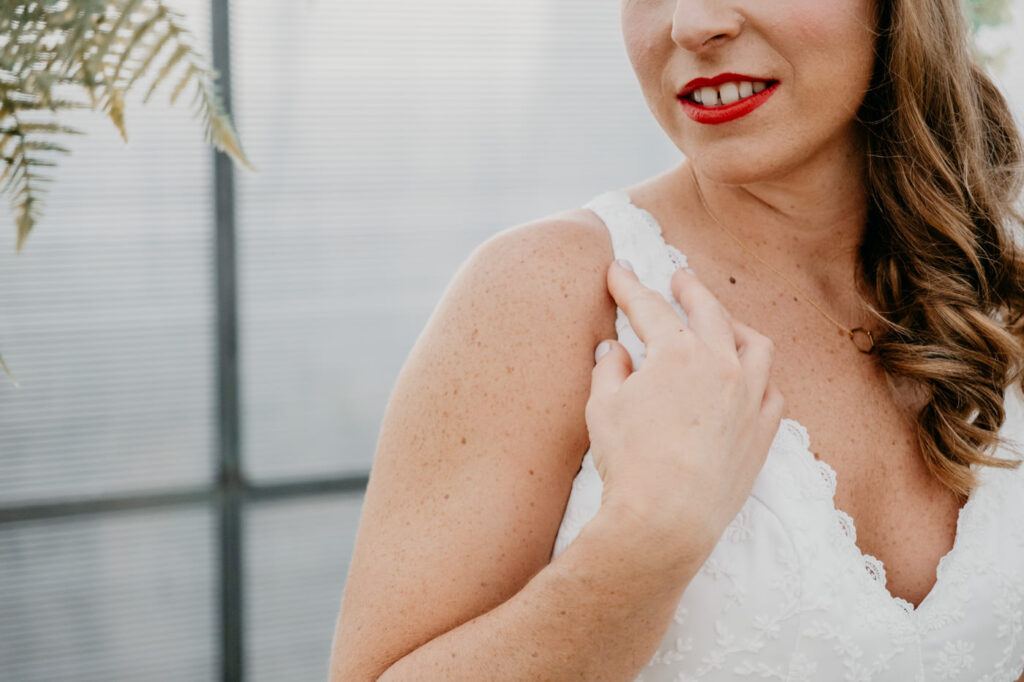 To begin with, we need to have a clear understanding of your body type, that is, which shape characterizes you the most. In the following image, we can see different types of body shapes, the most common ones, although there can be many more. The first thing we need to do is identify which of these more general shapes best describes our body shape: round, triangular, inverted triangle, straight, or hourglass.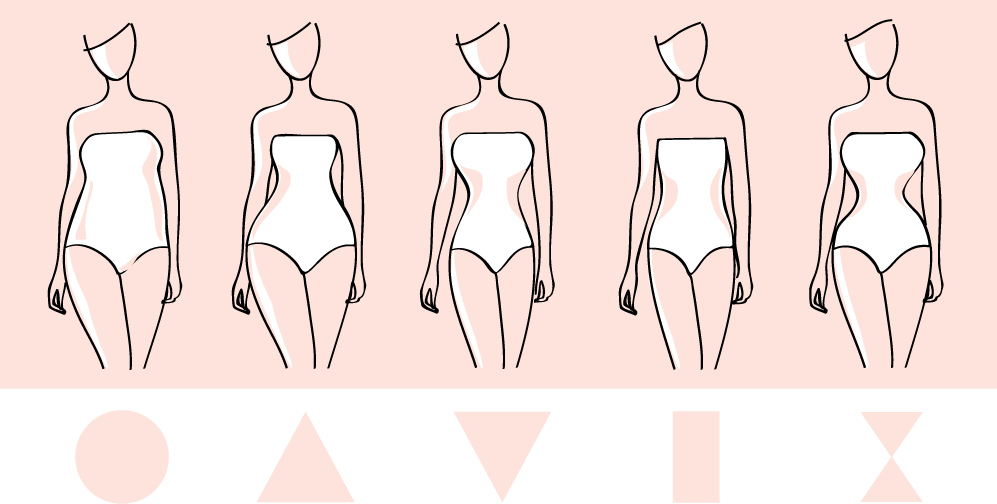 Once you have a clear understanding of which body shape suits you best, we will begin by defining, from my point of view and years of experience, which neckline suits you best for your wedding dress.
1- Round Body Shape: The round body shape is characterized by narrow shoulders and hips with a more prominent abdomen. Our goal is to minimize emphasis on the belly, so we can opt for a higher waistline and accentuate the narrower part of the bust. We should avoid any ruffles around the bust area, as they will only add more volume (except for ruffles on the shoulders, as they provide structure).
What works in our favor here is adding structure to the shoulders, as it will create a more harmonious visual balance. We aim for verticality, so necklines and designs with V-shaped or vertical lines will be great.
In terms of fabrics, we should look for fabrics that are not too heavy or overly embellished to avoid creating additional visual bulk.
2- Triangle Body Shape: The triangle body shape is essentially a triangle shape, where the shoulders are narrower than the hips, creating a visual triangle effect. Our goal here would be to balance this visual "imbalance" and enhance the shoulders either with something voluminous or by adding shoulder details; this can make a significant difference. For this body shape, we can consider ruffles and elements with volume to add more presence to the upper part of the body.
Regarding necklines, we can opt for both open and closed necklines as long as the shoulders are well balanced. For the skirt, we should look for styles that are not overly voluminous, with a flowy or even mermaid silhouette to accentuate the curves.
3- Inverted Triangle Body Shape: The inverted triangle body shape is characterized by broad shoulders and narrow hips. There's hardly any waist definition, so we want to stay away from styles that emphasize the waist. Our goal is to divert attention from the waist and focus on the skirt and the upper part (although to a lesser extent). To achieve this, we should look for textured or patterned tops. Necklines can be moderately open, including boat necks or strapless styles. These should be accompanied by a voluminous skirt to balance the difference between the shoulders and hips.
4- Straight Body Shape: For the straight body shape, where everything is at the same level, both shoulders and hips, without much waist definition, we need to emphasize and define the waist. We should opt for necklines that are not too open, with some degree of opening, but not excessive. We also want to find the right volume for both the skirt and the shoulders to create a more defined waist visually.
Regarding fabrics to add volume, we can consider patterns on the skirt or subtler textures, but we always want to emphasize the waist for our benefit.
5- Hourglass Body Shape: All body shapes are beautiful and perfect in their own way, but within the realm of visual balance, the hourglass body shape is considered ideal because everything is naturally balanced.
Here, we can play around more with textures, shapes, and volumes in equal proportions (without going overboard), as any excessive emphasis on one aspect can create the opposite effect. We can have open necklines and volume on the skirt, always accentuating the waist, which is our primary focus.
That's all for today; I hope you found this first blog post helpful. As always, if you have any doubts, feel free to write to me or leave suggestions for future blog posts at hola@mireiavidal.com. See you soon at my bridal dress atelier and boutique in Girona or here. A warm hug!