Restore an old wedding dress
Welcome back to the blog, today we will talk about how we can restore an old wedding dress, projects that many of you have brought to my atelier lately, and that makes me very happy to see the results.
Today, we will focus on the restoration itself and how to give a second life to a special wedding dress for you, or even how to transform it to create a new one for your big day. Whatever the reason that brought you to this post, stay tuned because this will interest you!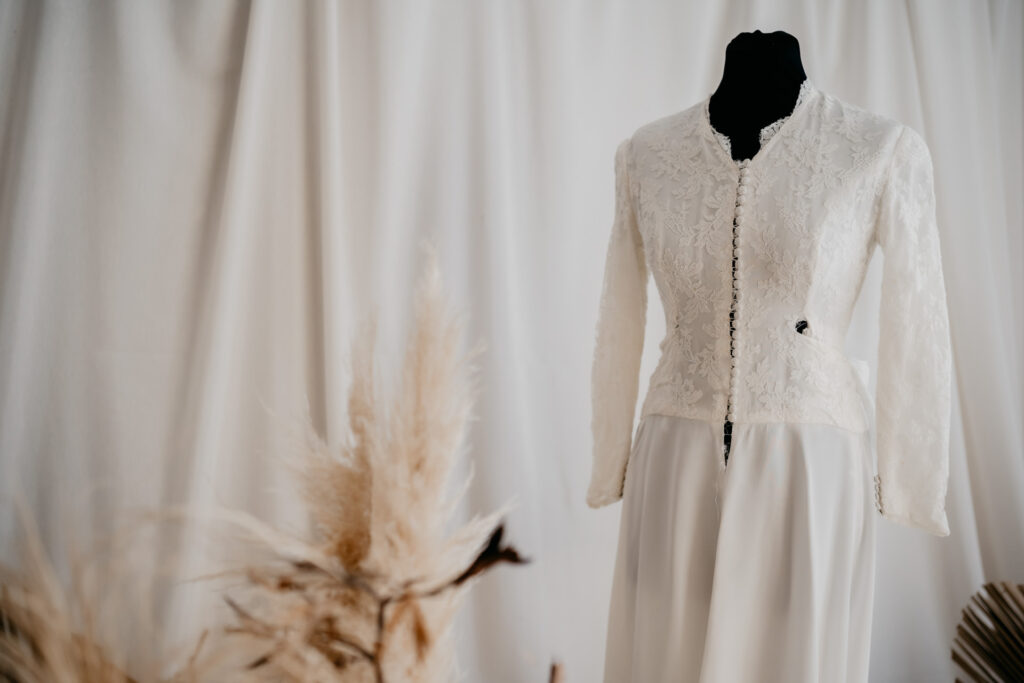 First of all, what I do at my Bridal Dress Atelier in Girona is to schedule an appointment with my clients to assess their project, understand the wedding dress they want to restore, and its age, among other factors. The most important aspect for a wedding dress is preservation because over time, fabrics can deteriorate for various reasons, such as inadequate ventilation or lack of dress hygiene.
Tips for proper wedding dress preservation:
Keep it in a protective garment bag to shield it from odors, in a cool and dry place, as humidity is the primary enemy of fabrics and accelerates the decay process.
Store it in a place free from dust mites and strong odors. Strong scents can stain fabrics over the years, and insects can also burrow into and damage the fabric.
Regularly clean the dress. Every year or year and a half, take it out of the bag, let it air outside in the sun, and have it professionally cleaned. Often, we take dresses to the dry cleaner and then forget them in the back of the closet, but this is precisely what should not be done to ensure proper preservation of the garment.
With the information on how to preserve it, you can apply these practices in the following years, and you can let me know how they have worked for you.
To restore antique wedding dresses, we will need to follow various steps:
Talk to the designer: The most important step before starting any work is to talk to the person who will handle your project since they can guide you and provide advice throughout the restoration process.
Take the dress for cleaning: One of the first steps is to clean the dress. If you have recently done this, you can communicate it to the person handling your project, and together you can evaluate whether it needs to be done again or not.
Upcycling: Here is where the interesting part begins. When I work with brides who want to transform the dress into a new one, we first create patterns and then disassemble the entire dress. We flatten the pieces and, using the patterns, decide which part of the dress to cut for the new pattern.
Fittings and modifications: Each fitting will show the evolution of the custom-made wedding dress, and you can also assess any changes and modifications you may want to make to the garment.
Remember that each dress is unique, just like each bride. Find the person you believe is ideal for enhancing your bridal style, and work together in this magnificent process.
As always, if you have any doubts, questions, or suggestions for future blog posts, you can write to me at hola@mireiavidal.com, and I will be happy to listen to you!