Ultimate guide to find your dream wedding shoes
Welcome to the fascinating world of wedding dresses in Girona, where beauty and elegance come together in every stitch. If you are planning your wedding and have arrived here, you probably have a big question in mind: what shoes should you wear with your perfectly tailored wedding dress? At Mireia Vidal Brides, the bridal atelier in Girona, we understand the importance of every detail, including the choice of the right bridal shoes. In this article, we will guide you through a definitive guide to help you choose the best bridal shoes that complement your wedding dress.
The Perfect Wedding Dress: The Beginning of Everything
Before diving into the world of bridal shoes, we must remember that the wedding dress is the centerpiece of your bridal look. In Girona, at Mireia Vidal Brides, we offer custom-made wedding dresses designed to highlight your beauty and personality. When choosing the right shoes, we must take into account the design, style, and details of your wedding dress. So, before buying the shoes, make sure you have the perfect wedding dress that makes you feel like a modern princess.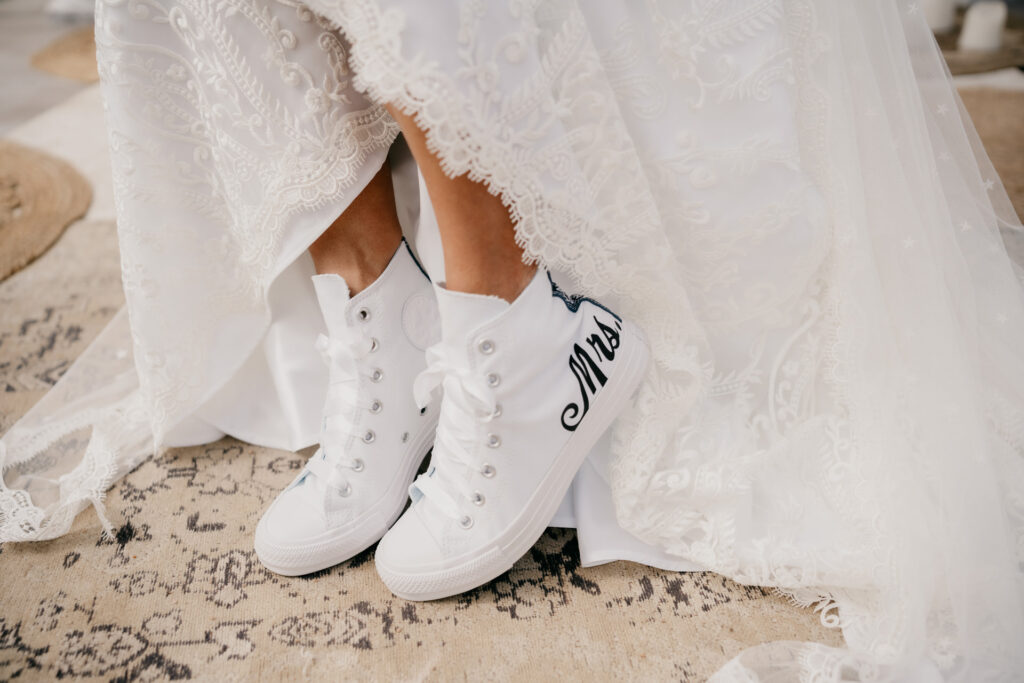 How to Choose the Right Bridal Shoes?
Choosing the right bridal shoes may seem like a daunting task, but with the right guidance, you can make an informed decision that enhances your overall appearance. Here are some essential considerations:
Style and Personality
Bridal shoes should reflect your personal style and the personality of your wedding. If you're a traditional bride, you can opt for elegant high-heeled shoes. For a more casual or rustic wedding, sandals or shoes with boho details may be more appropriate. Your comfort and confidence are essential, so choose a style that makes you feel good.
Heel Height
Heel height is a crucial decision. While many brides opt for high heels to add elegance and height, you can also choose low-heeled or even flat shoes if you prefer comfort. Remember that you need to be able to walk and move confidently on your wedding day, so choose a heel that makes you feel secure.
Shoe Color
Most brides opt for white or ivory bridal shoes to complement their dress. However, nowadays, many brides choose colors that match their wedding theme or simply to add a pop of color to their bridal look. Keep in mind that you can choose from a range of shades, including white, ivory, silver, gold, pale pink, or even blue as your "something blue."
Season and Ceremony Venue
The season and venue of the ceremony are also important factors. If you're having an outdoor summer wedding, open-toe sandals may be more suitable. If your wedding is in the fall or winter, consider closed-toe shoes or boots to keep you comfortable and warm.
Frequently Asked Questions about Bridal Shoes:
Can I wear flat shoes as a bride? Yes, you can wear flat shoes as a bride if you feel comfortable and wish to do so. Many brides opt for flat shoes for comfort and ease of movement during the ceremony and reception.
How can I ensure that my shoes fit correctly? It's essential to try on the shoes with your wedding dress to ensure they fit correctly and are comfortable. Consider doing a walking test to ensure you can walk with ease.
Can I change my shoes during my wedding? Yes, many brides choose to change their shoes during their wedding. You can start with high heels for the ceremony and then switch to flat or comfortable shoes for the reception.
Bridal shoes are a key element to complete your bridal look. Choosing the right ones can enhance your beauty and give you the confidence you need on your wedding day. At Mireia Vidal Brides, we are here to help you find the perfect bridal shoes that match your style and personality. With a wide range of options available in Girona, we are confident that you will find the ideal shoes for you.
If you're looking for more advice on bridal shoes or want to schedule a dress fitting at our bridal atelier in Girona, don't hesitate to contact us. We are committed to making your special day a dream come true. We look forward to welcoming you to Mireia Vidal Brides, where fashion and elegance come together to create stunning brides.
As always, for any questions or inquiries, you can write to us directly at hola@mireiavidal.com, and I will be happy to assist you. See you soon!